The History of Woodcrest Village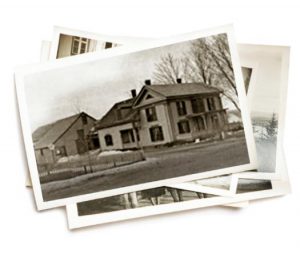 Standing in the center of quintessential New London, Woodcrest Village Assisted Living, formerly known as Woodcrest House, obtained its roots from a fine physician and community leader, Dr. Solomon M. Whipple, who built the original structure in the 1850's after purchasing the land from Ezekiel Sargent. Dr. Whipple, the town doctor, longer than any other physician, had his office in this house. His children contributed greatly to the area including the building of the town hall, the Whipple Memorial Hall, the founding of Kearsarge Telephone Company (now TDS); and the formation of the area's first stage lines.
Dr. Whipple and Henrietta Hersey were married on January 4, 1851 and raised three sons in this Main Street home. The U.S. Census records of 1910 indicate that Henrietta remained in this house with two nurses and a housekeeper, likely hired by her only two surviving sons, Amos and Sherman Whipple, to take care of her until she died on September 18, 1910. It is no surprise that Henrietta's positive and caring energy can still be felt from time to time.
After the Whipple heirs, the house was passed on in 1941 to Dr. William P. Clough, Jr. Dr. Clough was also one of New London's most prominent citizens and town leaders as well as being its eminent physician for thirty-five years. He also had his office practice in this house. Dr. "Bill", as he is still remembered, was chairman of the New London Planning Board and President of the New London Outing Club.
In 1970, the Cloughs passed the house on to the Woodward family who maintained it as their private residence. In 1984, a business partnership was established and this private home was transformed into the Dr. Solomon M. Whipple House offering seniors communal living, light housekeeping, and protective oversight.
In 1989, the reins were taken over by the current owners, Gary and Linda Brenner and an offering of increased care and services was provided under the name Woodcrest House. After 10 years of personalized care in this home-like building, the Brenner's purchased the lot behind the then Woodcrest House and the largest renovation in the Dr. Whipple Solomon House's history took place. Growing from 12 to 44 rooms, and tripling in staff size, Woodcrest Village is now one of the oldest and well known assisted living communities in the Lake Sunapee area.
In one regard, little has changed throughout the building's long history. Since 1855, this home has maintained a long tradition of housing generations of New Londoners including beloved doctors, caregivers and those simply wanting to call it "home."
"It's the genuine friendliness, thoughtfulness, and care for the Woodcrest residents, and for those of us who are not yet residents, that makes Woodcrest so special."
-Bruce, Son of Resident